Why Blitz?
Last December, the Committee conducted a Survey on its membership to better understand what members wanted from the Club. One of the many insights that were revealed was that a majority of members preferred faster time controls compared to the much longer, standard time controls that can go on for hours. This revelation was further discussed between the Committee and the membership at the recent August AGM, with a majority wishing for a second Club tournament with shorter time controls as compared with the beloved Club Championship. The Committee listened and decided to take action.
Following from the AGM, the Committee announced the Queens Park Autumn Blitz for the final club night of September. Leagues & Competitions Manager, Jordan McNaught, was in charge of organising the event with support from the Committee. Participants appeared to thoroughly enjoy the event, marking the first success of many for Jordan as he settles into his new role. The tournament marked a special occasion, being the first blitz tournament of its kind hosted by the Club. It was only open to members of the Club, with the aim being to provide members with a mild taster of competitive play and what to expect from the rest of the season as the first league matches draw ever-nearer in October, as well as round one of the Club Championship as it fast approaches in November. Everything was to play for – with the Autumn Blitz trophy up for the taking.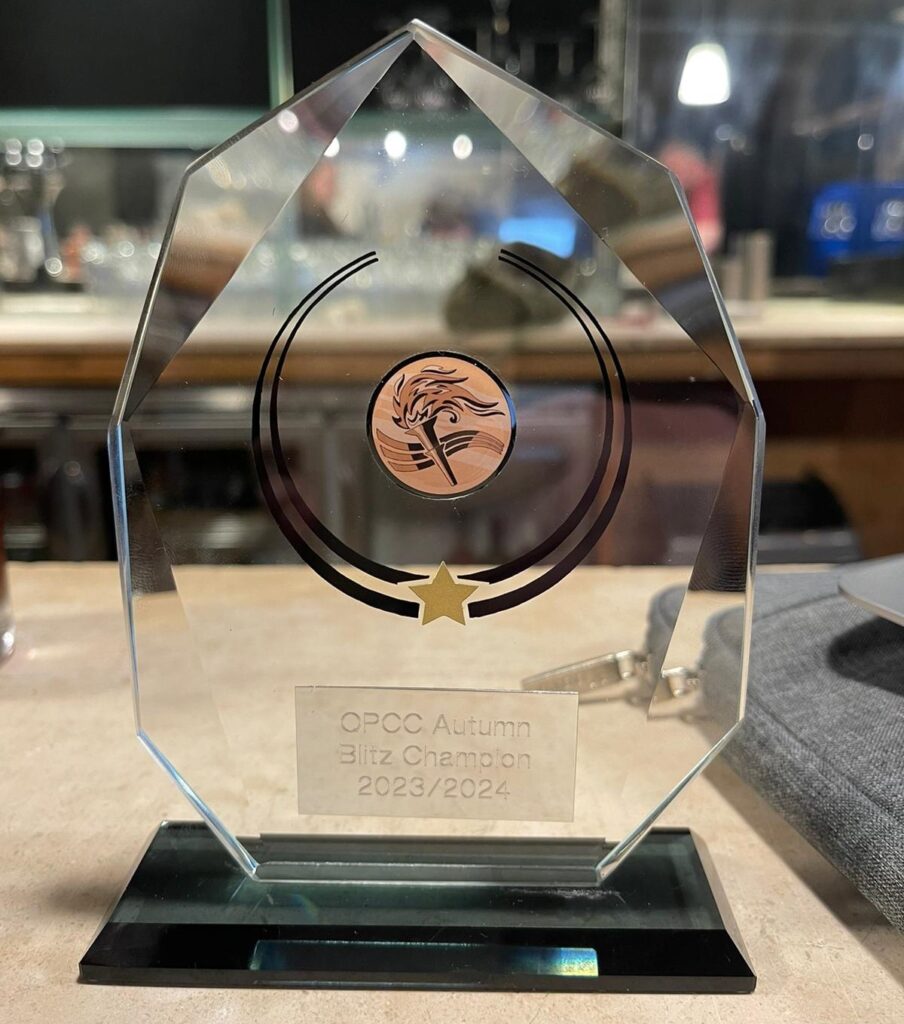 ---
Tournament info
The tournament was 7 rounds long and the time control in use was 3 minutes per player with a 2 second increment per move. Games were all unrated as Chess Scotland only grades Allegro and Standard time controls. In the event of tiebreaks at the end, all relevant players would have to play a play-off. A sizable 24 members decided to participate in the tournament, proving that there is indeed a clear interest for faster time time-controls.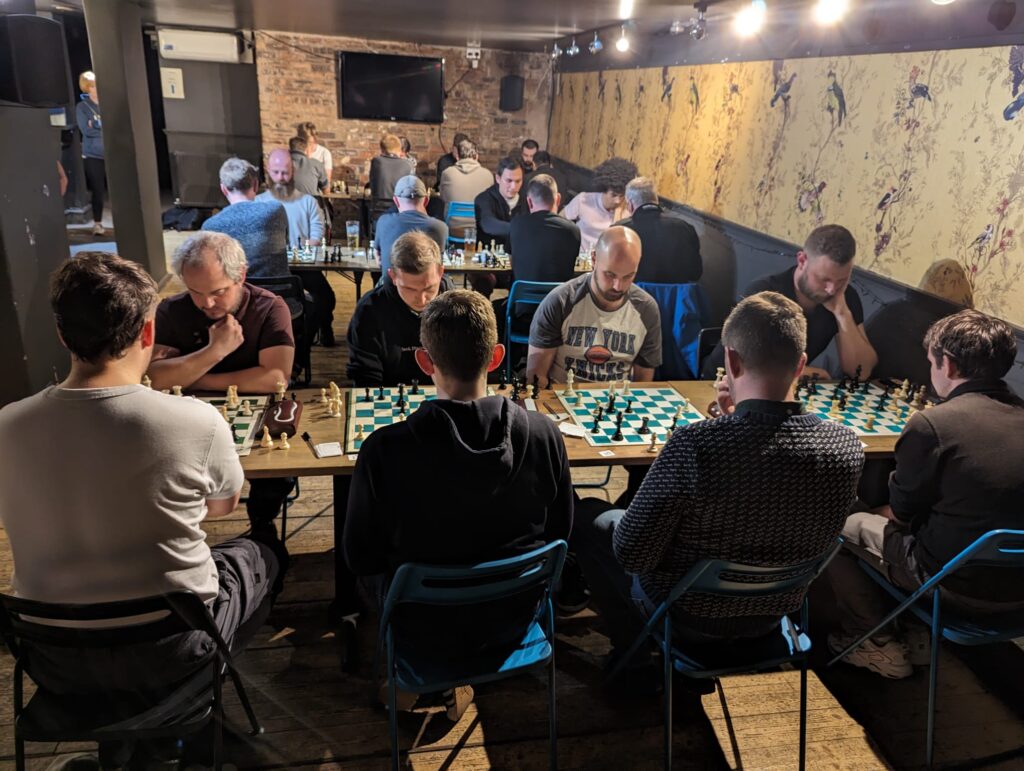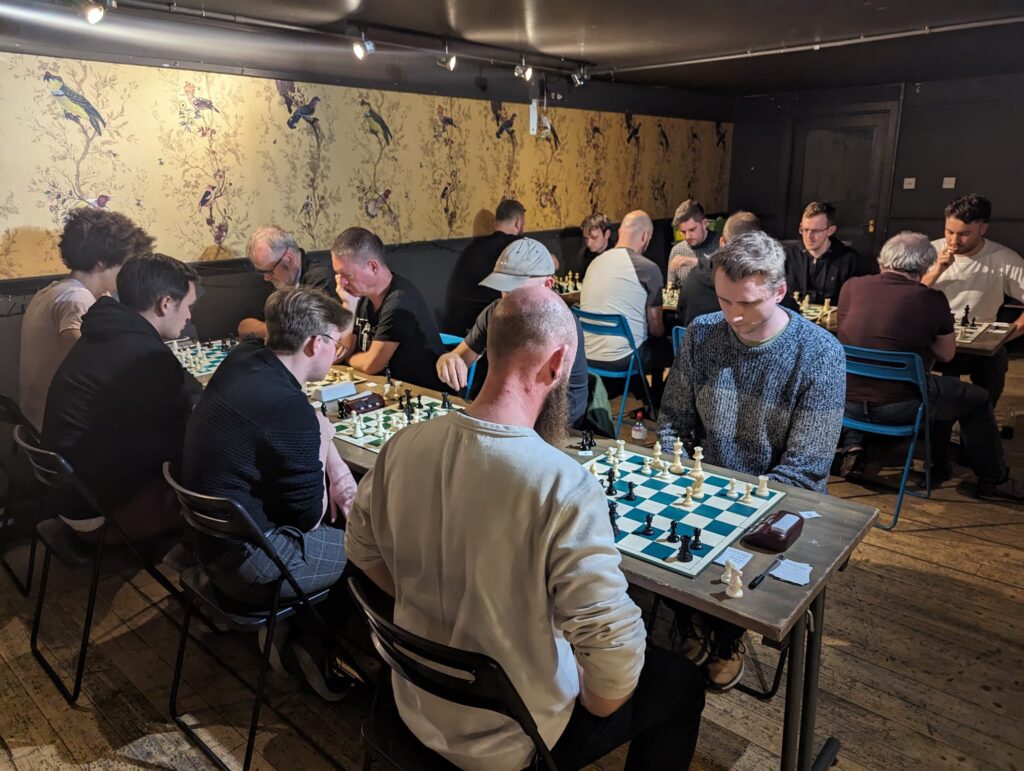 ---
Who won?
The race for first place started to tighten from the beginning with some unexpected triumphs. By the 5th round, it was clear that only a handful of players still had a chance of claiming the glory of winning first place, with Thomas Fowley, Moray Lennox and Jonny Livingston looking like top contenders. By the end of round 7, we had our winner… Jonny Livingston won the tournament! Jonny, a new member of the Club, had only recently gotten back into chess and competitive play, making his win that much more impressive. He was awarded with the Queens Park Autumn Blitz trophy after his stellar performance of winning 6/7 games. Thomas Fowley, Moray Lennox and Alistair Ahmed were close runners up, with all 3 players achieving an impressive score of 5/7 wins.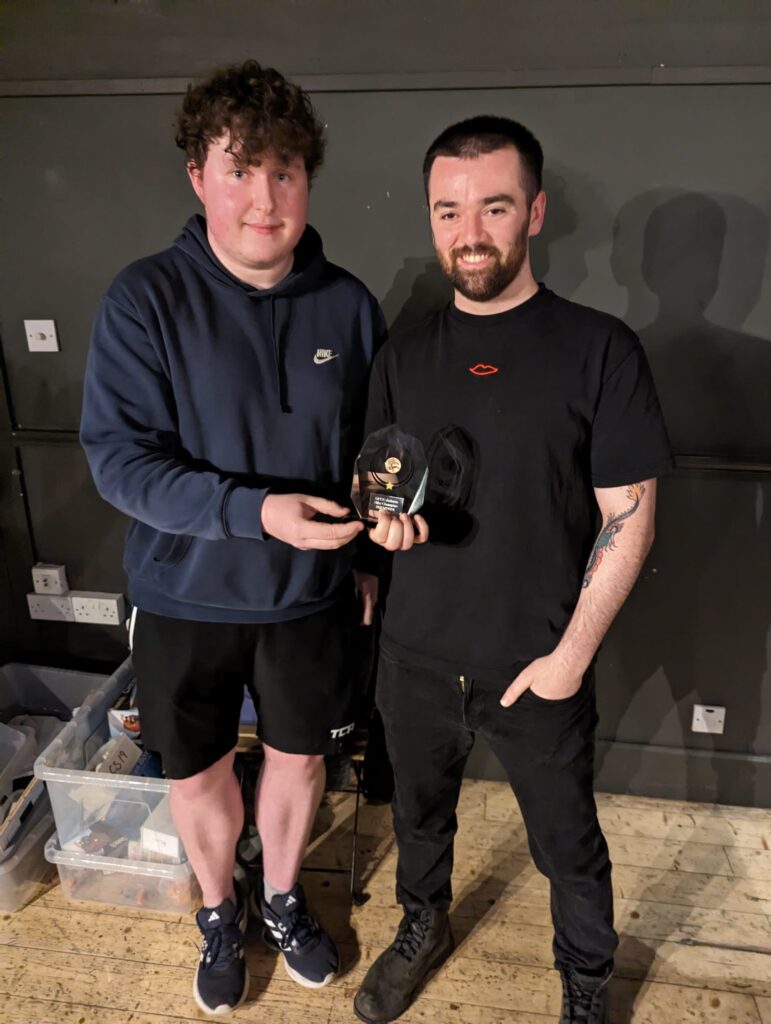 ---
Results
| | | | | | |
| --- | --- | --- | --- | --- | --- |
| Final Position | Name | Win | Draw | Loss | Score |
| 1 | Jonny Livingstone | 6 | 0 | 1 | 6 |
| 2 | Thomas Fowley | 5 | 1 | 1 | 5.5 |
| 3 | Alistair Ahmed | 5 | 0 | 2 | 5 |
| 4 | Moray Lennox | 5 | 0 | 2 | 5 |
| 5 | Connor Thompson | 4 | 1 | 2 | 4.5 |
| 6 | Paul Cumming | 4 | 1 | 2 | 4.5 |
| 7 | Rhys McCrosson | 4 | 0 | 3 | 4 |
| 8 | Marc Sheridan | 3 | 2 | 2 | 4 |
| 9 | Hunter Mackay | 4 | 0 | 3 | 4 |
| 10 | Craig Thomson | 4 | 0 | 3 | 4 |
| 11 | Alex Lane | 4 | 0 | 3 | 4 |
| 12 | Iain Shields | 3 | 1 | 3 | 3.5 |
| 13 | Harvey Dellanzo | 3 | 1 | 3 | 3.5 |
| 14 | Ciaran Melvin | 3 | 1 | 3 | 3.5 |
| 15 | Andrew Speirs | 3 | 0 | 4 | 3 |
| 16 | Angus Gillies | 2 | 2 | 3 | 3 |
| 17 | Douglas Veitch | 3 | 0 | 4 | 3 |
| 18 | Gregory Forrest | 3 | 0 | 4 | 3 |
| 19 | Jack Spillane | 2 | 1 | 4 | 2.5 |
| 20 | Ryan McGill | 2 | 1 | 4 | 2.5 |
| 21 | Andy Chisholm | 2 | 0 | 5 | 2 |
| 22 | Kris Barr | 2 | 0 | 5 | 2 |
| 23 | Thomas Robertson | 2 | 0 | 5 | 2 |
| 24 | Tom Cox | 0 | 0 | 7 | 0 |
Queens Park Autumn Blitz results
---
This tournament marked the first of its kind for the Club, but as its name suggests, it may or may not be the only Queens Park blitz tournament this season…