Did you know there are not one, but two highly active chess clubs around Glasgow's Queens Park?
They must, you think, have a ferocious rivalry, a real turf war, an intense conflict for players, growth, attention and success. Right?
Wrong! They are, in fact, the best of pals, supporting each other, frequently collaborating, and continually sending new recruits each other's way.
This is the story of Thursday Chess Group, a completely separate entity to Queens Park Chess Club, founded by Marianne Burns.
Read on to learn more about how to join the Thursday Group, the story of how it got started, and its close alliance with Queens Park Chess Club.
Where & When
The Thursday Group meet at the G41 Bar on 87 Kilmarnock Road in Shawlands, Glasgow;
Join anytime from 6pm – late on a Thursday (year round); under 18s, accompanied by an adult, are welcome until 8pm;
The group have exclusive use of the upstairs floor; plus 8 extra seats at the ground floor window;
No need to bring your own chess board – 15 triple weighted sets (and three optional clocks) are provided;
Informal, friendly, and completely free to join and play with people of a wide range of abilities;
Food and drink readily available from the bar.
If you would like to join the WhatsApp group, please email Marianne with a note of your mobile number: marianneburns00@hotmail.com.
Origin Story
Or, how Thursday Chess Group came into being – by Marianne Burns.
Queens Park Gambit
So, lockdown happened and as I gamed and jig-sawed (new hobby) my life away alone in my cosy flat, I got to thinking (out loud) – "I know what's missing in my life – a chess club!! Why has it taken me forty something years to think of this? It's the missing piece of the jigsaw!".
In September 2021, I posted on three local Facebook community pages – short and sweet, 'Anyone want to play chess?' The responses were rapid and enthusiastic.
Opening night – Brodies Bar – October 2021. I remember feeling really excited at there being seven people. A new outlet for my chess geekiness (and also my occasional interest in social interaction). I enjoyed every minute, not just because I love meeting new people but also because, these humans could hold a conversation about pretty much anything AND they wanted to improve their skills. Social interaction wasn't forced, chess came first! Win-win.
Before long, one bench wasn't enough – I booked two…twelve consistent chessers. Then all three benches… eighteen people! Some wanted to share their stories, some wanted to share a few beers, some wanted to just focus on a competitive game of chess. All were accepted.
The Middle Game
Then, curious strangers started nosing in the windows, unable to hold themselves back. 'I've not played chess since I was 13 – is it really free? Can I come?' It was amazing to see each and every bench blethering and laughing over the opening gambits. And people were actually GOOD and keen to improve. I don't think I'd ever seen anything like it since retreating to my school chess club in a science classroom, age 12, avoiding the playground fights and the girl groups comparing lipstick shades. But this was more inclusive and didn't feel like an escape, more of an exciting outlet.
People started bringing their kids along, their nephews, neighbours, parents and dogs! – I don't know if the welcoming and positive vibes are down to the west coast culture or just simply a diverse group of people with one huge thing in common. One of my neighbours mentioned to me as we passed in the street that she'd noticed a 'really lively chess club' in Brodies, did I know about it? I felt pretty satisfied that I'd started this and it had developed into something really cool!
"Before long, one bench wasn't enough – I booked two…twelve consistent chessers. Then all three benches… eighteen people!"

Marianne Burns
In May 2022, a new breed appeared and settled in! Queens Park Chess Club had closed its doors for the summer and had got wind of this Brodies Group. Their presence added an extra dimension – a real thirst for improvement, sharing a high level of ability and a desire to teach anyone interested in how to simply get better at chess. The banter, mixed with the creativity and thirst for skill development transformed the group into something pretty special.
The club has continued to grow and there are now over 90 diverse members, aged from 7 – 79. Nobody minds losing a game, which is handy as it's inevitable. Frequent comments from members, bar staff, social media enthusiasts and passers-by prove that the club has a hugely positive effect on all involved, as they not only develop their chess strategies, but also share their stories, struggles, bad jokes and often forge unexpected friendships.
The relaxed and unassuming nature of the group allows all types of people to be immediately accepted and feel a sense of natural belonging to something great. Comments have been made about the improvement in mood just by really connecting with someone over a table, rather than on a sombre screen. People travel from all over Glasgow – even Cambuslang and Motherwell – just to be part of the fun every Thursday!
The End Game
It's absolutely amazing how chess can connect all people and allow them to use both the right and left side of their brain simultaneously, while just having a really good, fun time with no pressure to do or be anything in particular. Some of the members have little or no other social activities going on during their week and the ease of joining this group on their first night far outweighed the initial anxiety of entering into the unknown territory of a pub chess club. No expectations, no emphasis on getting to know strangers, just sit down (or stand up) and play. No stress!
Laughing over a chess board seems, in my opinion, to be a guaranteed key to a positive, healthy outlook on life and every partaker has left the evening with some sense of achievement, excitement, and as Liam Neeson might put it, with 'a very particular set of skills', to prepare them for next week's 'Game Of Kings' – or Queens!
"The club has a hugely positive effect on all involved, as they not only develop their chess strategies, but often forge unexpected friendships."

Marianne Burns
A Perfect Mate
Queens Park Chess Club is delighted to maintain a close alliance with the Thursday Chess Group.
Secretary Derek Rankine, Club Champion Rhys McCrosson and former President Graeme McKinnon are among regular attendees. Chess Club members, including Greg Forrest, Caitlin McCulloch and Ryan McGill heard about the Chess Club via the Thursday Group.
In addition to the cross-pollination, Queens Park Chess Club and the Thursday Chess Group both supply participants to Chess in the Park meetups. They also teamed up for a successful Govanhill Thriving Places bid to scale up capacity and outreach, and collaborate on public events. 
Marianne said: "It's been great to see the Thursday Group and Chess Club grow together, creating so many new friendships along the way. We're both getting busier and busier and we have big plans for the future. Long may it continue!"
Graeme said: "We couldn't believe it when we heard dozens of chess players we didn't know are meeting and playing regularly in another venue right on our doorstep. A few of us from the Chess Club visited one night in May 2022 to check it out and we've been back every week since".
Derek said: "So many people of all ages and backgrounds are having a wonderful time meeting and playing chess locally on Tuesdays, Thursdays and Sundays. Chess Scotland have described Queens Park as having a 'lively chess scene' – it's a bit of an understatement!"
After playing in Brodies Bar for the first year, the Thursday Group moved to a bigger space in Shawlands' Corona Bar, and as of April 2023, play in the G41 Bar and Tapas Restaurant.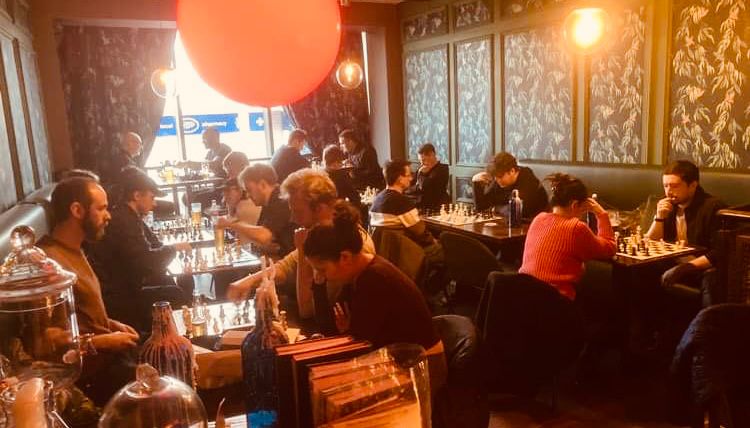 Get Involved
Thursday Chess Group meet upstairs in the G41 Bar on 87 Kilmarnock Road in the south side of Glasgow, on Thursday evenings, year-round, from 6pm to late. There is no need to bring a chess set.
Newcomers can turn up any time on a Thursday night for a warm welcome from Marianne and fellow regulars. With a wide range of abilities in regular attendance, from complete beginners to tournament winners, you can count on finding a good game and even better company. The informal meetups are completely free (well, except for any food and drink purchased at the bar!).
Thursday Chess Group has a busy WhatsApp group – which only occasionally strays off-topic. If you would like to join the WhatsApp group, please email Marianne with a note of your mobile number: marianneburns00@hotmail.com.