Introductory resources for those unfamiliar with the game
We are regularly contacted by those who would like to learn how to play chess from scratch. There is usually a linked request: "Can someone please teach me to how to play?"
Given our busy activity schedule, we regret that Committee Members do not have the time to teach the rules to those who don't know how to play. But don't be put off! Follow any one of the suggestions below and you will be surprised at how easy the seemingly complex game is to pick up.
While all abilities are welcome at Queens Park Chess Club, we strongly recommend having a basic knowledge of the rules to get the most out of your experience. If you have not yet learned the basics, or have forgotten some aspects after learning in childhood, this page includes some information that may be of help.
Queens Park is beginner-friendly and newcomers are always welcome. There is no minimum rating or ability level required to visit or join. Those worried they may not be "good enough" to join the Chess Club are encouraged to read this story from member Wull Swales, who held a novice rating of 400 elo on chess.com when he joined us in 2022.
The below information is intended for people who wish to learn how to play chess. Once you are confident enough to play a game of chess from start to finish, you will be much more likely to enjoy visiting us on a Club night.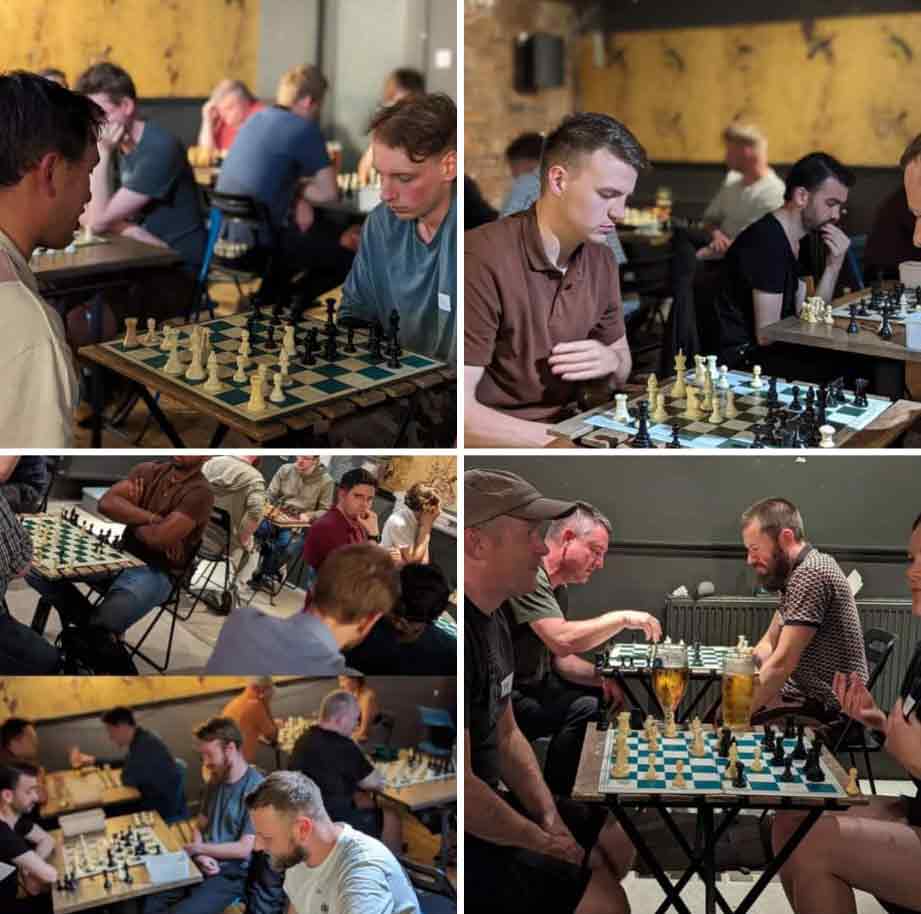 Learning the Basics
There are a number of options available:
A Free Teacher: As a first port of call, do you have any family members or friends that are into chess? They may be willing, if not actively excited, to show you how to play. Chess players often get a great deal of enjoyment from sharing their passion and introducing the game to someone new. The opportunity to ask them questions to improve your understanding can greatly speed up the learning process.
Books: You may prefer to learn on your own by picking up a book and a chess set. Two common book recommendations for new players are "Bobby Fischer Teaches Chess" by Bobby Fischer, and "The Chess Player's Bible" by James Eade. It will be hard to go wrong with any mainstream book on learning how to play chess, and childrens' books can be helpful for any age group. Why not try your local library?
Online: Two great places to start are the biggest chess websites – Lichess and chess.com. They have dedicated resources for beginners on the following pages. When you are ready to take the plunge, go ahead and play some games on either platform, against the computer or a human. It is completely free to play on both platforms, which also have mobile apps.
https://www.chess.com/learn-how-to-play-chess
Video: This is a popular 30 minute video by YouTuber Levy Rozman, aka GothamChess, which covers the board, the rules, how the pieces move, and how to approach the different stages of the game. Don't like his style? There are countless alternatives – search on YouTube.
Continue the Learning Journey
If you have learned the rules, and do not yet feel confident playing over the board or visiting the Chess Club, you may wish to work on some fundamental skills.
Tactical puzzles – in which you are asked to find a short sequence of moves that lead to checkmate or a winning position – are often highlighted as the quickest way of building skill and confidence. Check out Lichess' free puzzle section. Free Short & Sweet courses on Chessable are good for learning openings. Chesstempo provides free endgame training.
Two free sets of video lessons are commonly cited as incredibly helpful by our newer members:
Building Chess Habits by Grandmaster Aman Hambleton – which covers a simple list of good habits beginners should incorporate into their play.
Chess Fundamentals by International Master John Bartholomew – which focuses on typical mistakes beginners often fall prey to, and how to avoid them.
There are also many (understatement!) books and online resources that are aimed at beginner and lower intermediate players.
You could also visit the Thursday Chess Group, our local partner, which is casual chess only – and also prides itself on being welcoming to new players. You are very likely to meet some Queens Park members there, and should you decide to visit the Chess Club later, you will see familiar faces.
Finally, the Chess in Glasgow Facebook Group is a supportive community where you may find out about taster sessions and other beginner-friendly opportunities to play and learn in the greater Glasgow area.
Drop In
To reiterate, all beginners are welcome at Queens Park Chess Club, and those who are curious about visiting, and know how to play, are encouraged to drop by.
We can't guarantee you will win many games on your first visit, but you will be warmly welcomed into a friendly Chess Club where our members and visitors help each other to learn, develop and enjoy the game.
Please contact us if you have any questions on the above, or if you would like any further information before making your first visit to the Chess Club.