Why do people join chess clubs?
What are they looking for?
What is it like to be part of Glasgow's Queens Park Chess Club?
Each month, Derek Rankine (Club Secretary) interviews Queens Park members and asks them to share their experiences and perspectives.
The latest interviewee is Wull Swales, 35, a Support Worker who helps people to improve their confidence and independence, and work towards their goals. Wull, who is also an accomplished rock musician and performer, grew up in Twynholm in Dumfries & Galloway. He attended Music College in Greenock, and now lives in Auldhouse, Glasgow.
Wull joined the Chess Club earlier this season, and is competing in the Beltrami Club Championship and the upcoming Scottish National Chess League. As of January 2023, he has a chess.com rapid rating of 769 and a daily rating of 811, and is working towards a Chess Scotland grading.
Derek: Did you learn the rules of chess in childhood?
Wull: I have memories of learning how the pieces moved when I was in Primary School. A child-minder and friend of the family taught me. In my adult life, up until last year, I remember playing a handful of games on my phone sitting in the back of a tour bus, doing pass and play.
What triggered your immersion in chess in 2022?
I don't want to say Beth Harmon… but I think the show piqued my interest, and I liked the idea of learning. Then at the start of summer 2022, I saw a post on a community page from Marianne Burns about local casual chess. I joined the group chat and found out about the chess meetups in Queens Park. But before I even went to one of the Thursday or Sunday gatherings, Rhys McCrosson posted in the chat, does anyone want to meet up in Queens Park and play one on one?
So I packed up my Poundland board, and we spent a few hours playing and talking in the sunshine. We worked on some fundamentals and as I could feel myself being drawn further and further in, Rhys started telling me about the Chess Club, and that I should visit on a Tuesday evening when the new season started at the end of August.
What is it about chess that appeals to you?
There's a few different things. Firstly I think it's important to use different parts of your brain. The part of my brain that craves learning and challenging myself loves chess, in the same way the creative side of my brain loves music, songwriting and fantasy novels. I definitely have a bit of a competitive streak in me. I really enjoy just trying my best over the board against someone who's there to do the same, both of us truly enjoying doing it.
I also play Magic The Gathering competitively. There are big debates online on what is the hardest game ever to play, and chess and Magic are often featured. Both involve a mixture of tactics, assessing board states, strategizing within the game, making choices that make your opponent's life harder, capitalising on their mistakes, and recovering from losing positions.
I really love the social aspect of chess and Magic too. I've had a great time getting to know people and hearing about their passion for the games. I love the spirit of healthy competition. I travelled across UK, Europe and the US playing Magic and making great friends along the way. I've already met so many great people through Queens Park Chess Club. I'm looking forward to getting out there and playing more chess tournaments and league games too in Glasgow and Scotland.
How did you get into playing chess online?
A lot of people on the WhatsApp chat were talking about chess.com and Lichess, reporting that they are both good platforms to play on and improve. So that's where I went. I still do a lot of my playing on both. I really enjoy playing different time constraints as well as doing lessons and puzzles.
I'm trying to pay more attention to game analysis, looking at where my games have gone wrong and how to try not to repeat mistakes. Analysis is also about looking at the good moves you didn't see and committing certain patterns to memory.
You took Rhys' recommendation, and joined Queens Park Chess Club in Autumn 2022. Did you feel that was the natural next step in your improving journey?
Chess in the Park was such a lovely, wholesome thing. People in the sunshine having a nice time, curious passers by stepping in off the path, joining for a game before going about their day. I looked forward to it every week.
The Queens Park sessions had given me so much passion for the game, and the Chess Club was the clear progression. I knew the Club was an opportunity to play more and push my skills with fantastic developing and experienced players alike. I knew I would be learning not only about playing the game itself, but about tournament play, rules and etiquette.
Has the Chess Club been helpful to your development so far?
The Chess Club has been incredibly helpful. I remember being at my first Club night, when Rhys and yourself ran a Beginner's Session. During the intro, you said, "this may be your first time recording moves", and I was already feeling challenged and out of my comfort zone – in a good way. I was already a little unsettled, as it was only the second time I've played inside a building!
I'm a strong believer in the idea of, you can't always win, but you can always learn. I try my best to ask questions and analyse positions and games with whoever I'm playing. Often, I do this even with games I'm watching. Everyone at Queens Park has been fantastic, sharing their skills, knowledge and learning resources, to aid my development so far. I have improved a lot.
"I'm a strong believer in the idea of, you can't always win, but you can always learn."

Wull Swales
You have been playing in the Beltrami Club Championship, our five round internal classical tournament. Before it began, you told me you were certain to get five losses, and would look to use these losses as a learning experience. Having played two rounds so far, both against experienced, nationally rated players, your prediction is already way off. Can you tell us a little about both games?
I would be delighted to.
I thought so!
Yeah, five losses, that's exactly what I thought would happen. My friend Luke, a fantastic chess player who represents Hamilton Chess Club, recommended the book "Chess for Tigers" by Simon Webb. The author writes a lot about the mental preparation for the game – which I think is important. I tried to take this into account. Tigers don't lose. Tigers asses each situation and carefully consider their actions. Tigers always take their opponents into consideration. Tigers play to their own strengths.
So in Round 1, I had the pleasure of playing Iain Shields. I had played him before a few times, both online and in person. He is a fantastic player, with good opening theory that leads into interesting, unusual middlegame positions. I set myself up and mentally prepared to play to my strengths: no-thrills, solid fundamentals, make positive trades, play to the centre, develop pieces efficiently, and castle quickly to protect my King.
Iain played the Scotch Opening, which I wasn't very clued up on. My fundamental approach was going well, but I ended up a pawn down early. I was keeping pace with the clock and making decent moves, but gradually I fell behind. Overall, I played well despite losing. I went over the game with Iain and Rhys and was proud of my efforts. I had played to my strengths, as best I could.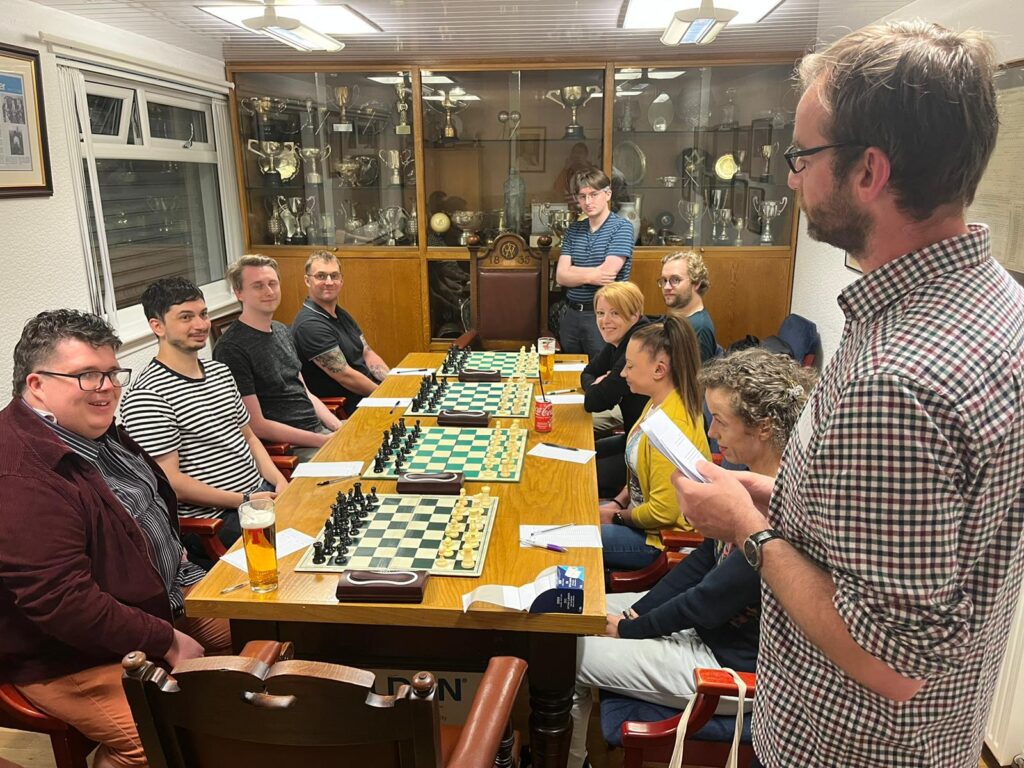 The second game had a different outcome, right?
I was chatting to Graeme McKinnon, and he said, with the Swiss pairings system, as the rounds go on, I will have more evenly matched games with players on similar scores, who are closer to my level in experience and ability. But when the pairings went up, I realised I had another strong opponent, who was hundreds of points higher rated – Jass McNeill. Like Iain, I had played Jass before. He had been a massive help in my development during games at Queens Park and in the Club.
This game, I had the White pieces. Up until a few weeks before, I would play 1.e4 only and focus on fundamental opening principles from there. But I started looking at alternatives, and began playing a bit of the English opening. 1.c4 can be quite an explosive start, and I was really enjoying it. I watched some YouTube videos by Grandmasters, and instead of memorising moves, I learned about ideas relating to seeking control of the centre from the side. I was really enjoying learning it, and I thought, if nothing else, at least I'm going to have fun playing an opening I enjoy, with a player I like and admire.
The game itself was incredible. I started with a standard English set up. Jass found strong diagonals for his Bishops. I utilised my Queen and a strong central pawn set up a lot of central tension. Then I castled kingside and Jass queenside. Next, a bloodbath on the b and c files! I ended up slightly ahead, and when the dust settled, I was advancing dangerous pawns, using my Rooks and an active Queen to support them. I managed to promote a pawn, Jass sacrificed a Rook, I set up a check, and my attacking momentum was flowing in waves.
Then a question appeared: do I actually have mate here? I looked at the board for a long time, knowing it must be mate. Surely? My heart was pounding with excitement, but my head was racing with doubt. Have I missed something, could this really be a forced win? Finally, I went for it. I played the move, touched the clock, and Jass lifted his hand for the shake. It was an incredible moment. Relief, joy, and a sense that all of my hard work over the last seven months had come to fruition.
Congratulations. Your victory was fêted in our new weekly newsletter with a special 'Wull S the Giant Killer' illustration by Graeme and a full record of the game. Next up, you have registered to play an International Master in a simultaneous exhibition, and to represent Queens Park in the Scottish National Chess League. Are you looking forward to those experiences?
I'm really thankful to the club to have these kind of opportunities. They'll be valuable learning experiences. I love to learn and to try new things in this beautiful game we play, and I look forward to representing a Club I'm proud to be a part of in team events.
"My heart was pounding, my head racing… finally, I played the move, and Jass lifted his hand for the shake. It was an incredible moment of relief and joy."

Wull Swales
Can you tell us about some of your highlights in music?
There's been a few incredible moments. I spent a week recording in Chicago with the legendary Steve Albini, with a brand new bass waiting for me as I stepped in the studio. There's certain bucket list things you don't expect to achieve – it was an incredible experience. As a performer, it would maybe be playing the Wickerman festival. I went to my first Wickerman when I was maybe 16, 17. The local bands were a big inspiration for me. They made me think, "I could do that too", and helped shape my goals. Going back and playing the Wickerman Souls Tent ten years later was incredible.
I also had the incredible privilege of playing at my own wedding – my wonderful wife Lynsey encouraged me to play a few songs. The band were mutual friends who I've deputised for many times in the past. It was just a beautiful day. Getting to share my skill with the people I love the most was incredible. And the chant of "Mammy Mammy Mammy F-ing Swales" for my Mum in between songs was amazing!
Playing the BBC Big Weekend was a really fun experience too. We were on the Introduction Stage with Royal Blood, and Katy Perry was headlining the main stage, she was unbelievable. Me and the drummer sneaked away to get a quiet beer at some point. We got stopped by security trying to get back, as there were "a lot of fake passes". We had to prove our ID by showing them the BBC live stream – that was pretty cool.
In addition to those, hearing my own voice on the radio for the first time was also brilliant, getting to share stages with bands I admire like Jeniferever, My Vitriol, Withered Hand, Last Days Of April. I was involved in a TV advert with Bruce from Big Country, and I played live shows in New York. Finally, getting to sing in a choir recording with one of my musical icons, the late Scott Hutchinson of Frightened Rabbit, was very important to me musically. That was very special.
Chess and music are closely linked. World Champion Vasily Smyslov was an accomplished opera singer, Soviet Champion Mark Taimonov a famous concert pianist, and Queens Park's 2022 simul opponent GM Jacob Aagaard is a keen guitarist. While Bob Dylan, Madonna, Sting, Kurt Cobain, and the Wu Tang Clan are just some of those in the popular music world with a serious passion for chess. Why do you think there is a strong crossover between music and chess?
It's interesting, I've thought about this too. I think both music and chess have a basis in maths or science. You take basic principles, expand your knowledge, and test things out with a specific goal in mind. Then the beauty of creative art kicks in. You try different approaches and see what happens. That's where the magic is born, in music and in chess.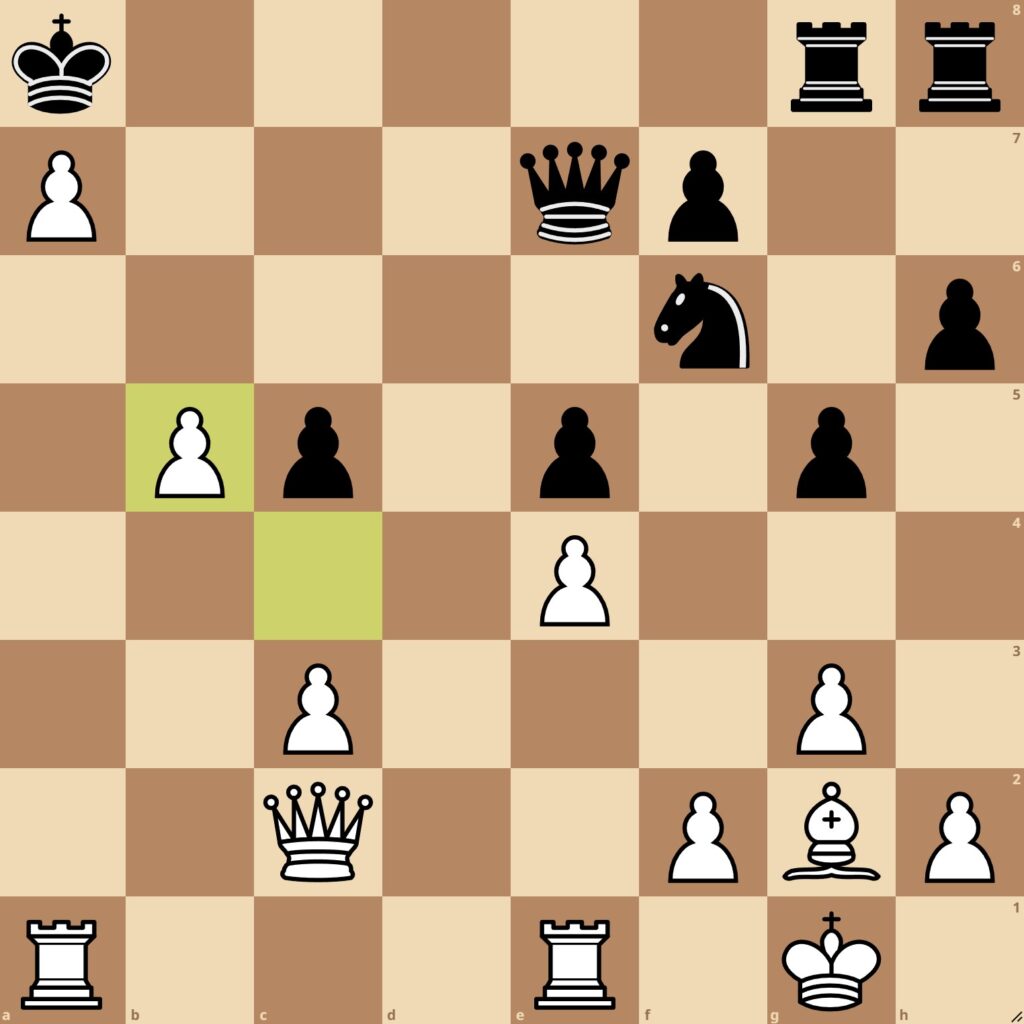 Do you think there are strong parallels between learning a musical instrument and learning to play chess, such as deliberate solo practice, testing your skills as part of a group, and performing in front of others? Or are they fundamentally separate disciplines requiring different approaches?
There are definite links between the two. Building up basics, understanding what notes are, and how to build chords, could be considered similar to learning about how chess pieces move and interact with the board. Similarly, learning different scales has parallels with learning specific openings, and new techniques like bending guitar strings, are like learning about when to fianchetto your Bishop, and transposing chess board positions is similar to inversions of chords. With both, as your skill improves, you learn about how to build up in different ways to reach a specific goal.
There are genre characteristics too. The Sicilian opening is the jazz of chess, whereas the Ruy Lopez could be punk rock. I'm sure someone else could put it a lot more elegantly, but at its base level, there are definitely similarities. It's the end result where they differ. You look to win in chess, while in music, the goal is to share your music, thoughts, feelings, emotions, grooves and energy.
Have you tried to expose your band members to the game?
I've been trying to encourage anyone I can to try it out.
We are both fans of the Californian band Weezer. What is your take on singer Rivers Cuomo's song Chess?
Yeah I 100% love Weezer! "The Blue Album" is one of my favourite albums of all time, and three decades on, they are still producing some absolute bangers. Chess is an incredible song. It gives a 1960s Beatles/Quarrymen vibe. I guess it's a metaphor for life, and how all the decisions you make affect how you develop as a person.
Even though there are things that make it harder sometimes, you need to roll with the punches, and try to anticipate your next move. You choose what parts of yourself you need to develop and that helps you grow – in chess as in life.
Through the local 'chess in the park' WhatsApp group, you have been sharing your journey of improving from a novice rating of 317 rapid on chess.com in July 2022 to over 750 in January 2023. Other group members have been impressed with your progress, especially in finding some elegant tactical ideas and mating nets. Are you pleased with your steady improvement?
I am delighted with my improvement so far. I remember in the early days of playing, people would be making comments like "and then the natural thing to do would be to transpose in to the Benoni…" or something like that. I would nod politely as if I knew what they were on about, while thinking, "OK Wull, just remember the horsey can move in an L shape!"
So I really like having a better understanding of the game, so I can start to handle situations better, read the board well, and make good moves. I think it was Todd Anderson (Magic The Gathering player) who said, "you don't need to know how you're going to win from turn one, but you should always have a plan". Which is what I'm trying to focus on now.
"Music and chess have different genres: The Sicilian is the jazz of chess, whereas the Ruy Lopez is like punk rock."

Wull Swales
What tips would you share with a complete chess beginner, who has just learned how the pieces move?
Find fun in fundamentals, develop your pieces, castle early, try to control the centre of the board and take free pieces. Rhys put me on to ChessBrahs on YouTube – GMs Eric Hansen and Aman Hambleton. They have an excellent "Building Habits" series of videos. I watched and rewatched a bunch, following simple rules to help build up standard habits for good gameplay, while avoiding traps.
As I've mentioned earlier, I think it's important to ask questions. If you don't know why your opponent did something, ask them after the game. Analyse your games when you can, in person and online, and see where mistakes and triumphs are happening, so you have less of the former and more of the latter.
Is the English your favourite chess opening?
Currently, yes it is. I'm really enjoying playing it, and learning more and more about it as time goes on. In another comparison to the music, it's the drop D guitar tuning of openings. It starts you from a new place and helps you develop fresh understanding from different viewpoints. I also love playing the Modern Defence as Black (1.d4 g6), using an early Bishop fianchetto to pressure the centre.
Do you have any chess goals – online or over the board?
Online over the next six months I will fight to exceed 1000 rapid rating on chess.com. In person, I will play in more tournaments, soak up the magic that chess has to offer, and work towards a Chess Scotland rating. I'd like to play one of the weekend Congress classical tournaments this year, with five long games in three days.
But mostly I just want to improve as a player and enjoy the ride. And of course, I still need to learn when it is natural to transpose into the Benoni.
Thanks for your time Wull!
This series will continue with a special double interview next month. For those who missed it, last month's interviewee was Ash Angappan.
Image credits: Martin McKeown (main image of Wull performing); Club President Graeme McKinnon (illustration of Wull & Jass in weekly newsletter – created with the help of artificial intelligence).