November 2022 was another packed month for the Club. Business continued for our three teams in the Glasgow and Dunbartonshire Chess Leagues, the Beltrami Club Championship got underway, and we initiated a Club Leaderboard. We were represented at national tournaments in Oban and Livingston, and we hosted a group of visitors from the admirable Freedom From Torture charity.
We reached an impressive milestone of 40 members, making Queens Park one of the bigger chess clubs in Scotland. That is all the more impressive given it doesn't include non-members who: join us in Wellcroft Bowling Club for casual chess on Tuesdays; play in the Thursday Chess Group; and/or join our meetups on Sunday mornings. Full details follow.
Beltrami Championship
32 players competed in the first round of our Club Championship, sponsored by law firm Beltrami & Co. The tournament provides an opportunity for members of all abilities to test their classical skills, gain or improve upon a national rating, and compete for the prestigious trophy.
Round one winners included the Club's highest rated players Tommy Lally (1616) and Craig Thomson (1606), and defending champion Rhys McCrosson (1477). On the lower boards, unrated newcomers Connor Thompson, Andrew Speirs, Ash Angappan and Paul Stewart also picked up full points. Full results here.
Round two, which has the designated date of Tuesday 10 January, will see six new Members join the tournament. Players unavailable on this date may arrange for their game to take place later in January. The round two draw will be made by Tournament Controller Alex Lane in early December, and will pair winners against winners using the Swiss format.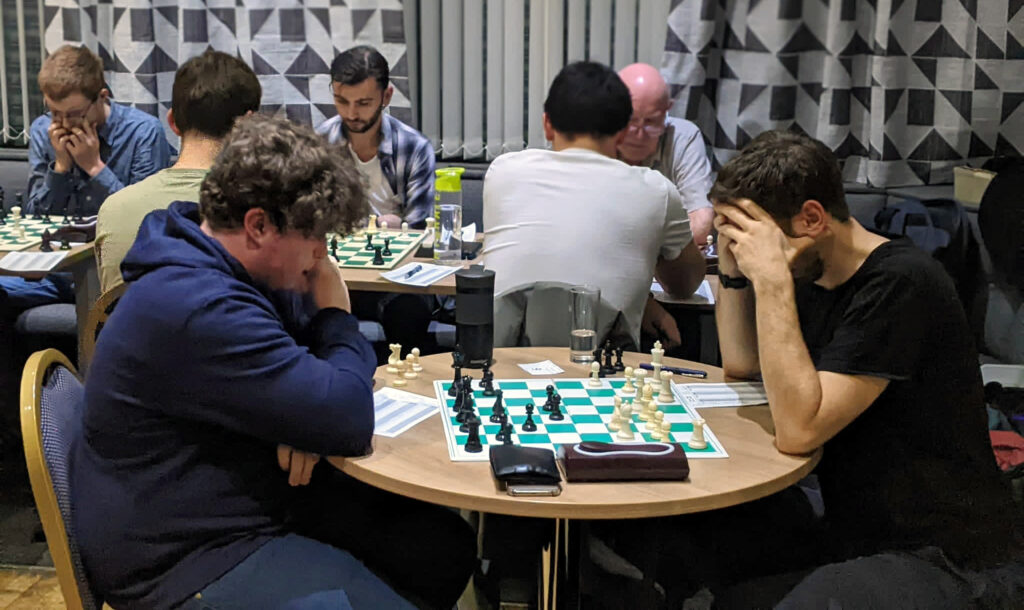 Club Leaderboard
This month saw the launch of Queens Park's own elo system in a special Club Leaderboard administered by Club President Graeme McKinnon. "Queens Park elo" does not contribute to Chess Scotland or FIDE ratings – but it does provide all-important bragging rights.
The Leaderboard is open to members and non-members alike, and simply involves playing a timed over-the-board rapid game (10+0, 15+0 or 30+0) with another player during a Club night, and recording the outcome in a score slip.
All players start at 1200. At the end of November, Rhys McCrosson leads and is the first player to cross the 1300 threshold, out of more than 30 players that have played at least one Leaderboard game to date. Click here to see the standings and rules.
Oban Congress
Congratulations to Queens Park's Jordan McNaught, a surprise joint winner of the Major section of the 2022 Oban Congress. Jordan, ungraded, was one of three players to share the prize money with 3.5/5.
Just behind on 3/5 were Alex Lane and Alex Radevic, while Derek Rankine scored 2.5/5. With Queens Park supplying the three lowest seeds of 14 players, it was an impressive outcome for the Club.
Queens Park was also represented in the Minor section by Iain Shields, who got 2.5/5, while Strathclyde Uni's Liu Zizheng, who regularly visits Queens Park, achieved 2/5 in the Challengers section.
The five round classical tournament (75 mins per player for the first 30 moves, then an additional 30 mins per player) was held in Oban's Royal Hotel on the weekend of 18-20 November.
International Master Andrew Greet, who will be visiting Queens Park on 31 January 2023 for a special 22 board simultaneous exhibition, won the tournament's Open section with 4.5/5. An invitation to the simul will be shared with Members in early January.
Livingston Allegro
A Queens Park delegation was in attendance at a Scottish Chess Tour rapid tournament in Livingston's Mercure Hotel on 8 November. In a tough Major section, Graeme McKinnon scored 2/5 and Jordan McNaught got 1/5.
In the internationally rated Minor section, Connor Thompson achieved three consecutive wins to finish on 3/5, while Jonny Linney got 2/5 and Ryan McGill got 1/5. The time control for the five round Swiss pairings event was 20+10.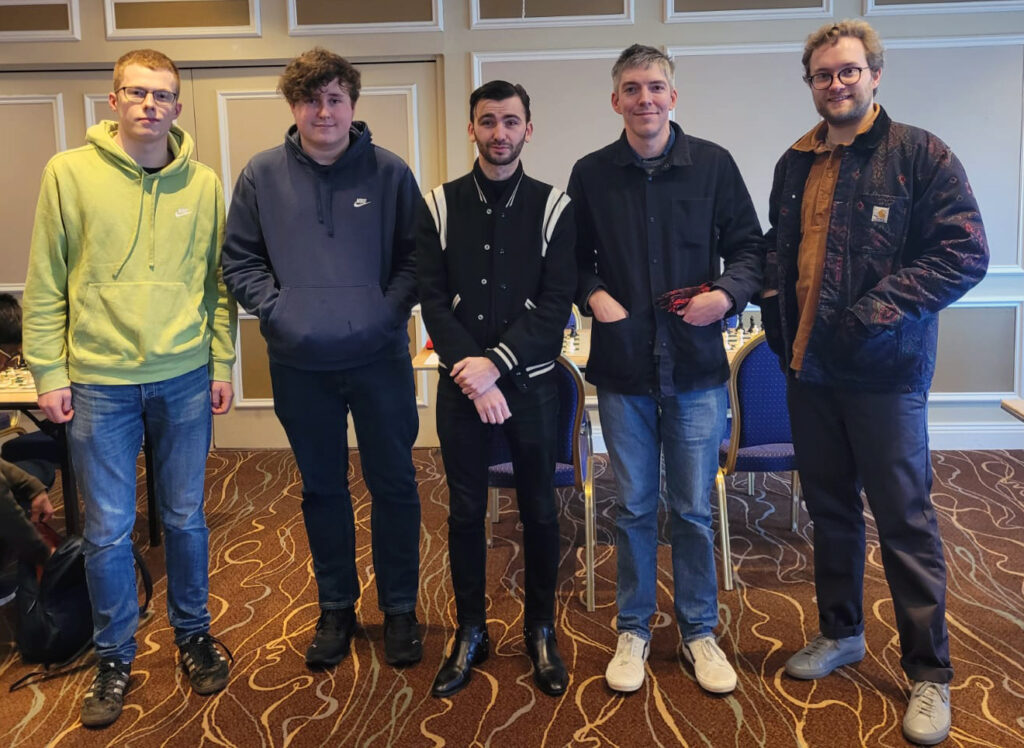 Freedom From Torture
The international charity Freedom From Torture, which provides therapy and support for people who are recovering from torture, visited Queens Park this month. The charity's Scottish branch runs a chess group for some of its service users. On 23 November, the group joined us for some casual games and advice on learning and development.
Our Members greatly enjoyed meeting the group and sharing some tips around opening principles and middlegame strategy. The group have an open invitation to join us again anytime in future.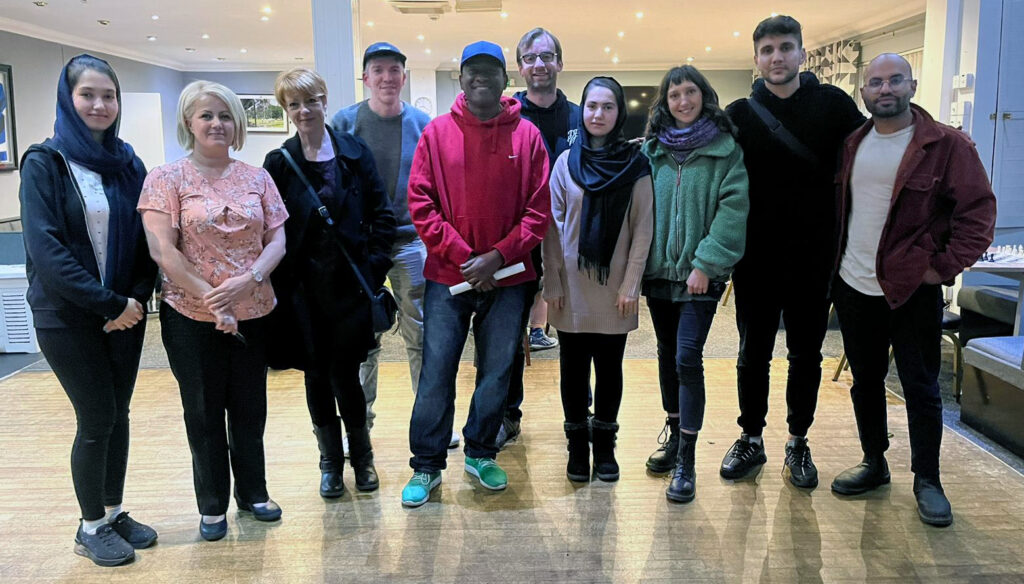 Monthly Interview
Our interview series continued with Ryan McGill as our November subject. Ryan is an enthusiastic new Member who arrived at Queens Park Chess Club via our local partner, Thursday Chess Group.
In his interview, Ryan tells us about how his interest in the game developed, picks out several highlights from his first few months in the Club, and shares some useful advice to newer players.
Meanwhile, the Thursday Chess Group is also growing in size. This month they set up home in a new location, the Corona Bar in Shawlands. Thanks to a successful joint bid to the Thriving Govanhill Fund, players no longer have to bring their own chess sets, and can turn up for a game anytime from 6pm on Thursday.
Endgame Class
Our internal Club training sessions continued with Alex Radevic hosting one on practical endgames on 29 November. Alex used our new demonstration board (purchased with Thriving Govanhill funding) to set up and work through a series of positions with a group of eight.
Next month, Graeme McKinnon will take a class on developing an opening repertoire. The session will be particularly valuable to those at intermediate level who are less clear about how to build up an appropriate depth of knowledge in their favoured openings. A session invitation will be shared via the Club Member WhatsApp group next month.
League Update
Queens Park's impressive start in the Glasgow Chess League continued with a 2-2 draw away to the Glasgow University A team on 16 November. The result, achieved from wins by Tommy Lally and Paul Cumming on boards two and four respectively, keeps Queens Park's promotion chances in good health at the top of Division 3b.
In the Dumbarton & District Chess League, Queens Park's A team in Division 1 lost 0.5-3.5 at home to Stepps A. Craig Thomson achieved Queens Park's half point by drawing an opponent rated more than 400 points higher, and ungraded Connor Thomson put up a tremendous fight against 2000+ rated Stepps opponent John Henderson.
Queens Park's B team had mixed fortunes in Division 2 of the Dunbartonshire League. Caitlin McCulloch captained the team to an impressive 3.5-0.5 win away to a Giffnock side featuring her father, Andy, on 7 November. The following week, on 15 November, the team suffered a 4-0 defeat at home to an impressive Strathclyde University side. The second game saw league debuts for new and ungraded Queens Park Members Sachin Vats, Greg Forrest and Sagar Kukreja.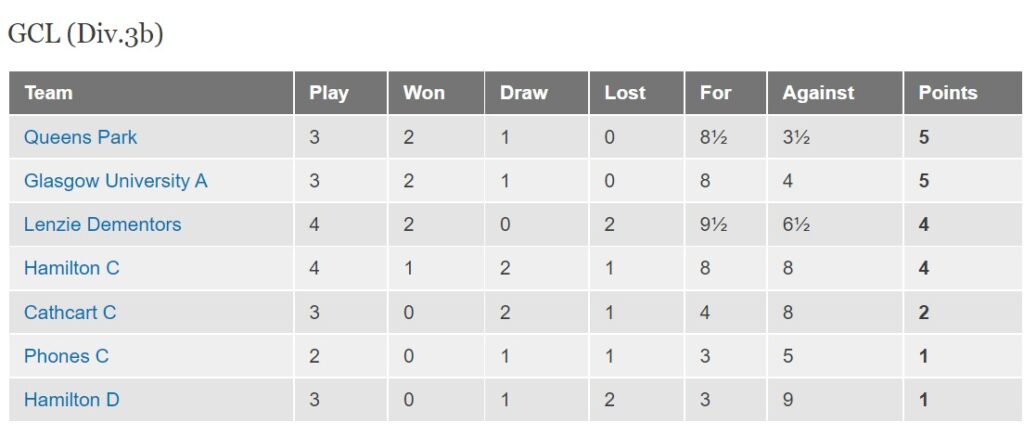 The Dunbartonshire teams are frequently rotated with a view to giving newer players experience alongside some of our higher rated Members. Those wishing to join a future team are encouraged to respond to calls for league players issued by captains in the Members WhatsApp group.
As some Members have reported difficulty finding the latest league tables, this website will feature a regularly updated set of tables on a dedicated new League Info page. In addition, our website calendar also provides detail on all league fixtures across the 2022/23 season, as well as special events.
National Ambition
In early 2023, Queens Park will be going national. We have registered teams in two Scotland-wide Cup competitions – the Spens and the Richardson.
The 'first' Queens Park Chess Club, which was active from the 1870s to the 1930s, won the prestigious Spens Cup on several occasions. While it is unlikely we will match their success on our first try, we will look forward to following in their footsteps and testing ourselves against other Clubs across the country in the five board Cup.
Queens Park may be entering the Scottish National Chess League too. The Committee are considering an invitation to join Division Five for the current season, with fixtures beginning in January.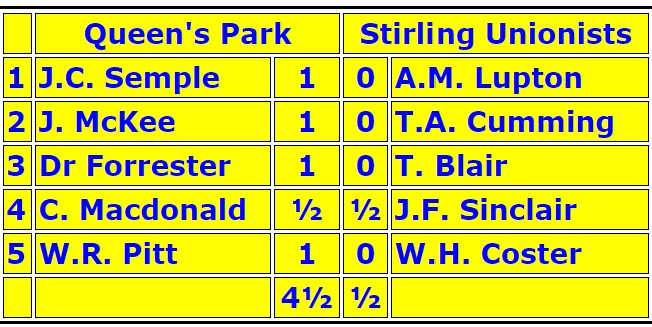 Public Posters
Finally, those in Govanhill and Shawlands may have spotted our above poster, highlighting the three regular and free-to-attend chess meetups around Queens Park. The posters are currently on display in community noticeboards and selected venues.
As always, current and prospective Members and regulars are encouraged to contact Graeme (President) or Derek (Secretary) with any queries on recent and forthcoming activity.