Queens Park has generated a significant lead in Division 3b of the historically significant Glasgow Chess League.
The Glasgow team, one of six league and cup teams Queens Park is operating this season, has outperformed expectations, and developed a strong chance of winning promotion to Division 2 for the 2023/24 season.
The top of the league table is currently as follows:
Queens Park (15pts – 9 games played)
Lenzie Dementors (12pts – 10 games)
Glasgow Uni (11pts – 8 games)
Hamilton D (8pts – 9 games)
Hamilton C (7pts – 8 games)
Queens Park sit top by three points, with three fixtures remaining. Glasgow University are four points behind, with one game in hand, while Lenzie Dementors have played an extra game, and are three points off the pace.
A busy league schedule in March & April will see Queens Park try to pick up maximum points in an effort to maintain the lead over the higher rated Glasgow University team, which got one win and one draw from its two fixtures vs Queens Park, and the talented Lenzie Dementors junior team.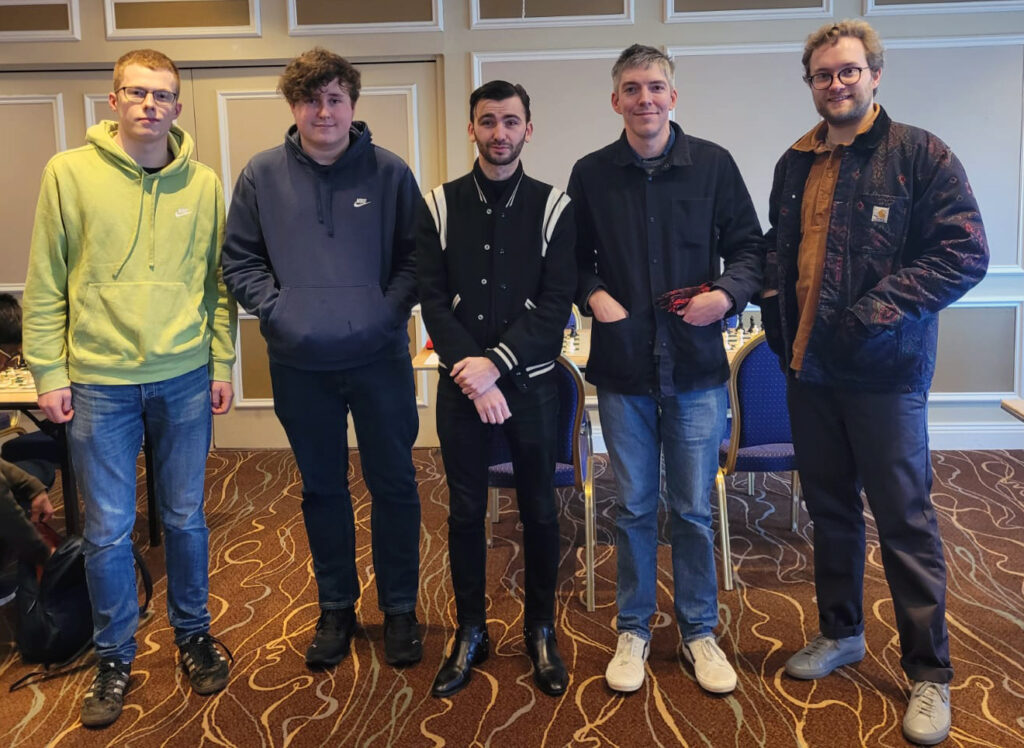 With Division 2 operating six-board teams, compared to four-board teams in Division 3, Queens Park will be able to operate a larger team in the new season if the campaign to win the league and achieve the promotion spot is successful.
Despite being formed in January 2019, 2022/23 is the first opportunity Queens Park has had to complete a league season, owing to the impacts and disruptions of the Covid pandemic. A league win on the first time of asking will be a notable achievement for the Club.
Team Captain Rhys McCrosson, pictured top, said: "I believe the team is almost guaranteed promotion."
Here are two games from the team's latest fixture, a 4-0 win at home to Hamilton C on Thursday 9 March (the 'home' game was in fact played in Hamilton, as a result of junior players in the visiting team and licensing restrictions in The Bungo).
In the first game, Connor Thompson won an impressive 13 move (!) miniature, while in the second, Rhys set up a Queen sacrifice to deliver mate. Click on the links for access to the full games.